GLOBAL TIMES ONLINE: Yuantouzhu, a must-visit in east China's Wuxi
WUXI, China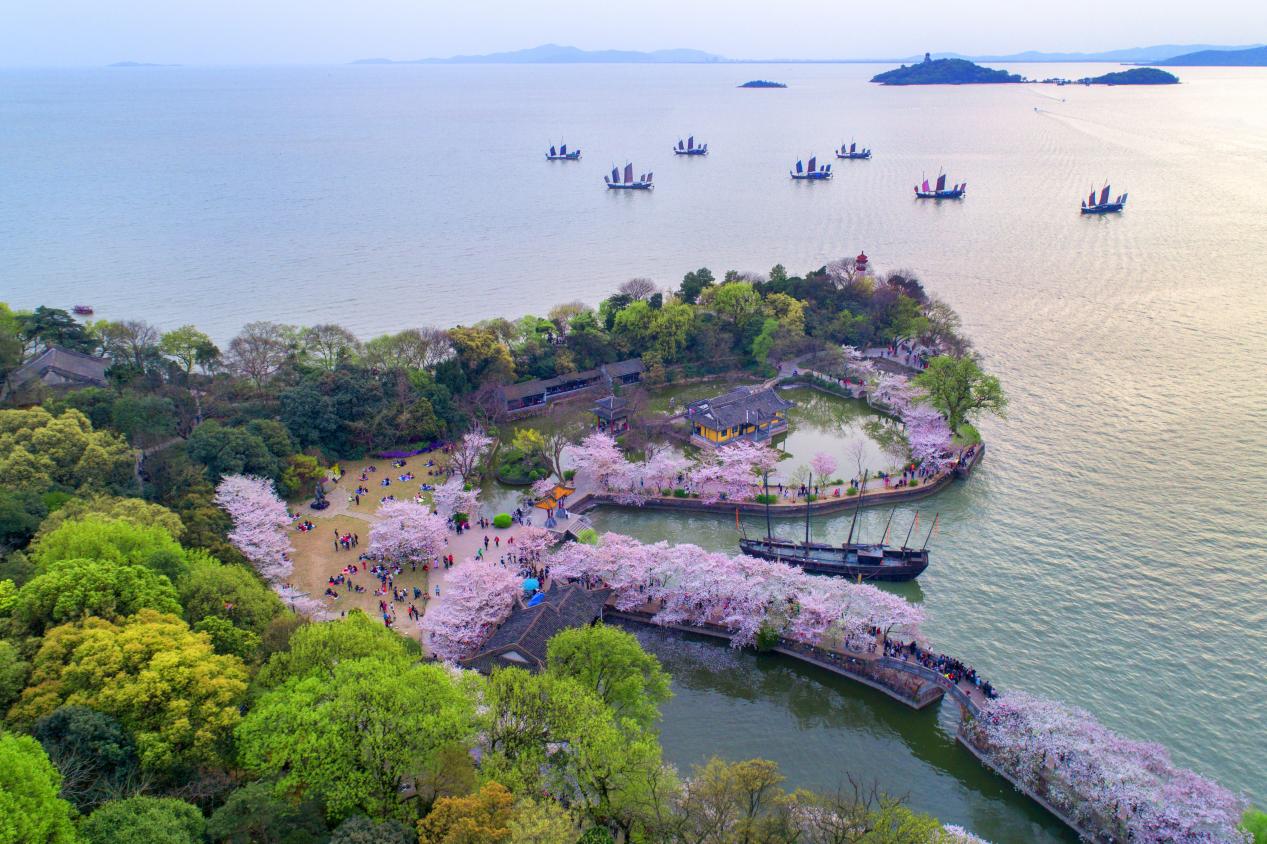 Boasting breathtaking natural scenery in all seasons and rich cultural and historical deposits, Yuantouzhu, a national 5A-rated scenic spot in Wuxi city, east China's Jiangsu Province, is considered a must-see for any visitor to Wuxi.
As a peninsula located in the Taihu Lake, the third-largest freshwater lake in China, Yuantouzhu represents the essence of the beauty of Taihu Lake and is therefore known as "the number one scenic spot of Taihu Lake."
"The best spot of the Tahu Lake is Yuantouzhu." The line from a poem by Guo Moruo, a late renowned contemporary Chinese poet, has drawn worldwide attention to the scenic spot.
Yuantouzhu offers splendid views of cherry blossoms in spring. Cherry valley, one of the major tourist attractions in the area, has more than 30,000 cherry trees of 68 varieties and is the largest cherry garden in China. Flowering cherry trees constitute a magnificent pink sea of flowers during the blooming season of cherry blossoms, attracting visitors across the country.
The summer scenery of the scenic spot is just as intoxicating. Blooming lotus flowers gently swaying in the summer breeze never fail to enchant tourists boating on the lake with a cool, sweet, and refreshing fragrance. The beautiful lotus flowers, together with the lucid lake water, clear blue sky, green trees, hills covered in lush green vegetation, as well as white clouds floating over the hills, makes up a picturesque sight.
Autumn in Yuantouzhu is colorful and vibrant. The clouds are pure white, sunshine bright and warm, and wind gentle and soft at this time of year. Visitors can easily feast their eyes on the picturesque scene of the Taihu Lake glittering in the golden light of the setting sun, while the sparkling lake surface is dotted with sails in the distance. In late autumn, hills in the scenic spot are beautifully embellished with bright red foliage, and leaves flutter in the wind like butterflies. The poetic sight gladdens the heart and pleases the eye.
In winter, the scenic spot becomes a paradise for migratory birds, with black-headed gulls being the most common species overwintering in the area. Bird-watching enthusiasts can get up close and personal with the birds here. In addition to bird-watching, the amazing lake scenery and charming snow views, including snow-capped temple, historical sites and traditional Chinese gardens, also attract flocks of visitors.
SOURCE: GLOBAL TIMES ONLINE